This post may contain affiliate links from Amazon.com or other companies mentioned, which means that if you purchase through them, I receive a small commission at no extra cost to you. I only recommend products I personally use and love, or think my readers will find useful. I appreciate your support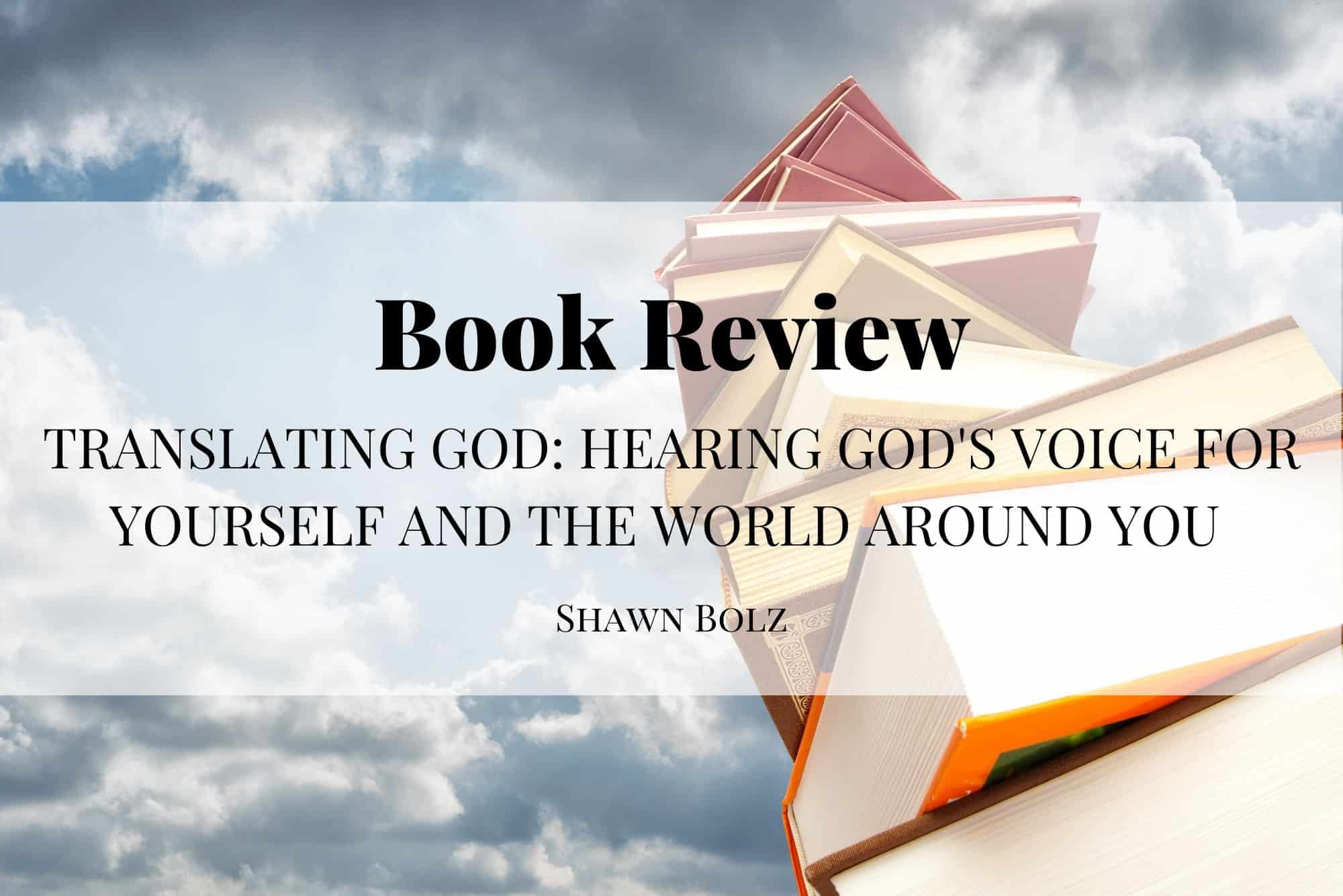 Book Review: Translating God: Hearing God's Voice for Yourself and the World Around You by Shawn Bolz.
Translating God serves as an inspirational guide book that puts God's great love back into prophetic ministry as a primary goal full of real-life stories that articulate the culture of love behind God's heart for the prophetic.
So much of the prophetic ministry is esoteric and a free for all in which people throw down the God card on anything they "feel," but this book brings balance without taking away the desire to see the powerful nature of God displayed.
On top of that, it's biblically based and is supported by scripture throughout each story, driving home the book's message of activating the ability to hear God's voice for each reader.
Through a thought-provoking prophetic ministry philosophy and Shawn's glorious successes and very real failures, you will be inspired and equipped to:
learn how to hear God for yourself and others,
grow through simple focused steps,
take great risks,
stay accountable,
love people well,
grow in intimacy with the Lord.
Start to reshape the world around you with God's love today.
Adapted from Amazon.com
---
ABOUT THE AUTHOR
Shawn Bolz is an internationally known prophetic voice who lives in Los Angeles, California with his wife, Cherie, and their two daughters. A minister since 1993. He has ministered to thousands—from political leaders to those on the streets. Shawn is known for his strong prophetic gift and the way he connects people with who God originally intended them to be.
Shawn and his wife are the founders of Bolz Ministries which aims to inspire and empower God's love around the world and Create Productions which aims to produce exceptional media that involves and transforms culture.
He is also the founder of Expression58, a mission-based church that focuses on training and equipping Christians, encouraging creative arts and loving people in the entertainment industry, and serves as a board member of Justice Group, where he works with them on social justice issues and missions operations around the world.
In Translating God, Shawn shares everything he has learned about the prophetic in a way that is totally unique and refreshing. Shawn aims for the higher goal of loving people relationally, not just pursuing the gift or information, and he activates you to do the same.
---
MY TAKEAWAYS
I first read Translating God about three years ago. I was just beginning my relationship with God as a Father, even though I had already been a Christian for about 10 years. Through this book, I could understand the ways God speaks to me daily and better hear His voice for myself and hear what He wants to say to others. Since then, Translating God has become a kind of reference manual for me. I read it at least once a year to remind myself of how God speaks to me specifically.
Translating God stresses the importance of using the love of God in tandem with prophecy. This comes from knowing God in an intimate relationship versus only knowing about God. It is from this relationship that you recognize His voice and the ways He speaks to you.
Using his personal experiences, the author shows how you can prophesy to others with God's love, telling them what's on His heart for them as you see them through His eyes. He also uses his journey to show how he grew in his prophetic ministry, taking risks, making mistakes, and accepting accountability along the way.
The author makes it simple, showing that prophesying is not only for a select few with a "special" anointing, but that prophecy is as simple as listening to hear God's voice for a person and then telling them what God wants them to know. He cautions us to focus on the positive rather than the negative.
For example, if God reveals something negative to you about a person, then we ask God what He wants you to do with that information. Relaying that negative message will not help a person but God will instead tell you how to say it so it expresses His love for them and then they can be healed or delivered.
The greatest benefit I've gained from reading this book is that it has made evangelism much easier. I don't have to worry about following a formula and then feeling like a failure if the person doesn't accept Jesus. I simply have to tell the person what God has told me to say to them and know that I have done what He wanted me to do at that moment.
Sometimes this might be all that He requires of me. But most times it opens the door to a conversation which ends in me praying for that person. Either way, that person leaves knowing that God is interested in them as an individual and loves them enough to send someone to tell them.
The author shows us that in God's eyes we're all special and He wants us to hear his voice for ourselves and others so that we can spread His love to the world and to promote His kingdom.
---
QUOTES FROM THE BOOK
"When we combine our love of prophecy and people we reshape hearts with heaven"
"You'll never have authority over what you do not love"
"The goal of revelation is so simple: See what God sees, hear what God hears, and speak what God speaks so we can all love the way God loves. Revelation is given to us so we can carry a piece of God's heart from eternity into the world."
"His eternal plan is for us to see what he sees, which enables us to love like he loves."
"Fearless love looks like this: I don't care what you think of me, there is a God in heaven who loves you so much that you won't care who I am; by the time you meet Him."
"This is the goal of prophecy: to connect people to the empowering nature of God so they can become like him and display his marvelous nature to all the earth."
There is no power from God that is separated from love. If you want to have influence, you have to join yourself to his love nature. This is more than a feeling or an emotion. It is an attitude of acceptance toward everyone and everything that is God's, even if you can't control it, manage it, or even nurture it. You are called to love.
---
Buy Translating God at Amazon.com
In addition to Translating God, Shawn Bolz is the author of God Secrets ; Through the Eyes of Love , Keys to Heaven's Economy ; Breakthrough: Prophecies, Prayers and Declarations ; and the newly-released Provision: Prophecies, Prayers and Declarations Book 2.