This post may contain affiliate links from Amazon.com or other companies mentioned, which means that if you purchase through them, I receive a small commission at no extra cost to you. I only recommend products I personally use and love, or think my readers will find useful. I appreciate your support
Have you watched the Chosen TV series yet?
If not, I think you're missing out.
I binged watched the entire first season earlier this year during our local Covid-19 lockdown. And I've watched it four more times since then.
That's saying a lot since I stopped watching television when my daughter was eleven… she's twenty-five now (except for at the end of the year when I binge watch Hallmark Christmas movies… but I digress).
So, let me tell you a bit about The Chosen.
WHAT IS THE CHOSEN?
The Chosen is the first-ever multi-season TV show about the life of Jesus and his followers. It was created, directed, and co-written but filmmaker, Dallas Jenkins. The aim of the creators is for the show to be seen in every country of the world as they seek to portray Jesus "through the eyes of those who knew Him".
But here are some other fascinating facts about The Chosen:
First original TV Series about Jesus
Created outside of the usual Hollywood system and completely crowdfunded
Season one was the highest crowd-funded TV series or film project of all time raising over 10.2 million.
By July 1, 2020 fundraising for Season Two had raised over $6 million from 300,000 investors.
1st ever project to launch in every country with its own app
Viewed over fifty-one million times (51,000,000) in over 180 countries (as of August 21, 2020)
Currently being translated into 70 languages
WHY I LIKE IT
What I like most about The Chosen is that the creators went out of their way to make Jesus and his followers relatable. The characters and their story arcs make them seem like everyday people, with everyday problems who are in need of a Savior. People, just like me.
Sometimes when we read the Bible, we forget that Jesus and his followers actually lived on earth, in the Middle East in a land called Israel. The Chosen gives us a glimpse of what may have been going on in their everyday lives. We get to see what it was like to live in first-century Judea – the history, the culture, the politics – and we're reminded that the people we read about in the Bible were actually living breathing human beings with faults and failures just like us.
I'm a huge fan of anything to do with Biblical history, architecture, or culture and I love it when history and the Bible collide. One of the things I like about the Chosen is that we get to see the Bible in its historical context.
In one episode, we see Zebedee and his wife, Salome. Salome is calling out to Zebedee to haul something up through a hole in the roof. The roof of a home in Middle Eastern culture is used for many things like growing gardens and even for building sukkot (booths) during the Feast of Tabernacles.
Later in the episode, we see the friends of the paralytic man, tear away the cover of this hole to lower him down to Jesus. In many other depictions that I've watched, I was given the impression that they tore off the entire roof. It shows aspects of biblical culture that we might not be aware of living on this Western side of the hemisphere.
But what I like most is that the creators wanted to portray the Bible as accurately as possible while still taking artistic license to "fill in the blanks". They used religious experts from Jewish, Catholic, and Evangelical backgrounds to review scripts and provide facts and content on the history, culture, and political climate in first-century Judea. When we understand the Bible in its historical context it helps to clear up some of the things we don't understand with our Western mindset.
WHAT the chosen ISN'T
Remember that I mentioned that I love anything to do with Biblical history and culture? Well, I first gave my life to Jesus when I was 14 years old, in my bedroom because of a fictional book based on the book of Esther. I was so intrigued by all that I read that I kept going to the Bible to see if it was true. My family went to church from time to time but Bible reading wasn't a daily (or weekly or monthly) thing in our household.
This is the way I see The Chosen. It's biblical fiction. Yes, the creators tried to be as accurate as they could be but it's still NOT a replacement for your Bible. It's not meant to be. It's simply a television show, heavily based on the scriptures but it's still a work of fiction. It should send you to the Bible and other supporting sources to do your own research. It should draw you closer to Jesus as you seek to know Him more.
Now having said all of that, there are many many moments from The Chosen that have stood out to me; enough to make me watch the entire series multiple times lol. And every time I watch it, I find something new. I want to share my top 5 favorite moments from The Chosen with you; maybe you'll want to watch it too.
(Warning: may contain spoilers. Some of these are an episode recap of sorts so if you haven't watched it yet stop reading now. But even if you read on, my words don't do it justice, you need to watch for yourself.)
1 Fear Not, for I have Redeemed You
Jesus: Fear not, for I have redeemed you; I have called you by name; you are Mine"
Episode one opens with a young Mary Magdalene. She comes out of her family tent to her father and tells him she's scared. He reminds her of the scripture she always says when she's scared: "Thus says the Lord, who created you, O Jacob, and He who formed you, O Israel: "Fear not, for I have redeemed you; I have called you by name; you are Mine." (Isaiah 43:1)
Fast forward about forty years and we see an adult Mary living in the fictional Red Quarter. She's demon-possessed and goes by the name of Lilith. Her identity has been usurped. Nicodemus, portrayed as a high-ranking Pharisee, happens to be in town and is called in to do an " exorcism". He invokes all the names of God he can think of, plus the names of the archangels, and still, he's unable to deliver her. The demons tell him, "We are not afraid of you. You have no power here, teacher". Nicodemus high tails it out of there.
Later, "Lilith" is in a bar in the Red Quarter attempting to drown out her sorrows when someone puts his hand on hers. She thinks it's one of the regulars looking for "something" but it's Jesus. The demons start to manifest and she tells Him to leave her alone then runs out of the bar.
Jesus follows her. He calls her by her name; her real name, "Mary! Mary of Magdala!"
She stops and turns and says, "Who are you? How do you know my name?" Jesus only says, "Thus says the Lord, who created you, O Jacob, and He who formed you, O Israel: "Fear not, for I have redeemed you; I have called you by name. You… are Mine.'" and then places His hands on her head.
She is instantly healed.
No matter what we're going through or who the devil tries to convince us that we are, God always knows our true identity. He gave it to us. We are his.
2 Without Questioning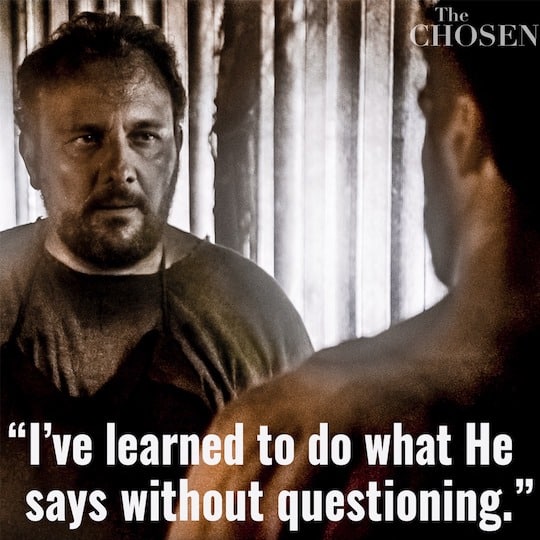 Moses: "I've learned to do what He says without questioning"
Episode 7 opens with a flashback to the Old Testament . Moses is crafting the bronze serpent to save the people of Israel from the plague. Joshua is not convinced. He accuses Moses of trusting in a pagan symbol, the serpent. (It says Sinai Penisula but I'm not convinced that's historically accurate. I lean towards Jabel Al Lawz being the real Mount Sinai. But again I digress).
Joshua says to Moses, "You did not ask him if he was sure? Maybe you misunderstood what he was saying."
Then Moses adds, "I've learned to do what He says without questioning. You remember what happened at Meribah?"
Moses learnt his lesson at Meribah. God asked him to speak to the rock; he struck it instead. It cost him entry into the Promised Land. Along this same line, I've also noticed that throughout Season One, Andrew is the shown as one who does what Jesus says, Immediately! No questions asked! His brother, Simon? Not so much lol.
I want to be more like Andrew. But can relate to Simon, sigh. I like to ask questions. But sometimes my questions get in the way of immediately doing what Jesus asks. I'm still learning to do what He says without questioning. We're working on it together.
3 All He Wants is Our Yes
Again in Episode 7, as Jesus and his disciples walk past Matthew's collector's booth, Jesus catches Matthew's eye for a split second. Then, he turns and looks Matthew in the eye and says, "Matthew! Matthew, son of Alpheus! Follow me."
Matthew hesitates… could Jesus really mean him? He says, "Me?" Jesus laughs and says, "Yes, you."
Matthew immediately grabs his things, (including his notebook hint hint :)), and locks up the hut. Gaius, his Roman escort (and reluctant friend) grabs him and asks him what he's doing.
Gaius: "Have you lost your mind? You have money. Quintus protects you. No Jew lives as good as you. You're going to throw it all away?"
Matthew simply responds, "Yes" and walks off to join Jesus.
The show takes great care to show how much tax collectors like Matthew were hated by the Jewish people. Even Matthew's own family rejected him. His mother accused him of using his God-given talents to rob his own people. He was rejected by the people and the religious leaders but all Jesus wanted was his "Yes".
Jesus doesn't care what we've done in the past. When He asks, all you need to say is "Yes".
4 Get Used to Different
When Jesus asks Matthew to follow Him, Simon strongly objects. He actually asks the Son of God, "What are you doing? Do you have any idea what this guy has done? Do even know him?" Jesus simply says, "Yes" (well. of course He does)
The rest of the conversation goes like this:
Simon objects, "Whoa, do You have any idea what this guy has done? I don't get it."
Jesus: "You didn't get it when I chose you either."
Simon: "But this is different. I'm not a tax collector."
Jesus: "Get used to different."
Hmm. Can we get used to different?
Let's take this year (2020) for example. No one expected the entire world to shut down because of a pandemic. But out of that we got to spend more time with God and our families and reflect on what's really important. Maybe we were meant to spend that time strengthening our relationship with God so He could show us our next steps.
God always knows what He's doing. He can turn any circumstance around for good. We've never been this way before. Maybe the way forward calls for something different.
Get used to different.
5 Have We Put God in a Box?
Nicodemus: "And if God did something that you felt contradicted the Torah, would you tell Him to get back in that box that you have carved for Him – or would you question your interpretation of the Torah?"
My all-time favorite moment from The Chosen (so far) is from Episode 6. Nicodemus is having a conversation with a former student, Rabbi Shmu'el about John the Baptist. Rabbi Shmu'el orchestrated his arrest because he called the Pharisees a "brood of vipers".
Shmuel sees John as a heretic because he took the words of Isaiah 40:3 (John 1:23) and applied them to a human being, Jesus, implying that Jesus is God. This is blasphemy because in his opinion, God cannot take human form.
When Nicodemus asks him why he thinks God cannot take human form, Shmuel references Deuteronomy 4:15 and Exodus 33:20
Nicodemus responds, "Just because they saw no human form does that mean He does not take one? Would you place limits on the Almighty?"
And then comes my favorite quote of the entire first season of The Chosen:"
"And if God did something that you felt contradicted the Torah, would you tell Him to get back in that box that you have carved for Him—or would you question your interpretation of the Torah?"
Wow! If God does something that He's never done before; something we do not understand, do we question God or do we question our understanding?
I know I can say that this year (2020) God has done some things that I did not understand. Things that caused me to go digging in the Bible and to sit at His feet and ask questions. I've had to make decisions I never thought I would make and trust Him for my very next step because I could not see it. If God steps out of your box and does something different, are you going to trust Him?
If you haven't watched the Chosen yet, I encourage you to do so. You can watch it for free by downloading the app for iPhone or Android. It's also available on YouTube, VidAngel, and BYUtv
Oh, and since it's the Christmas season, check out The Chosen Christmas Special pilot episode, The Shepherd. That's where it all got started.
WAYS TO SUPPORT THE CHOSEN
Many people have come to know Jesus through The Chosen TV Series. As mentioned, it's not funded by traditional Hollywood methods so if you'd like to support the series, here are some ways you can do so:
Pay It Forward and help someone else watch the series for free
Buy The Chosen memorabilia and use it as an evangelism tool to give to others as you tell them about Jesus and the Chosen TV series.
Simply tell people about it and encourage them to watch the series.
If you watch the Chosen, let me know in the comments what your favorite moments are.